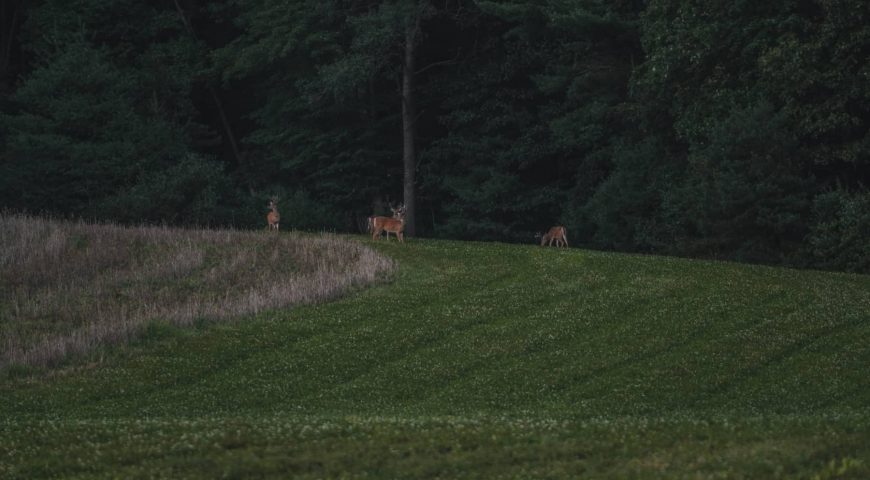 How to Keep a Food Plot Journal for Deer with TrophyTracks
Food plots are the number one and often the first property improvements that private landowners invest in. Why? Because food plots provide predictable food sources that drive deer movement in the fall. There are many variations of food plots, sizes, and reasons to build them. Regardless of your property plan, the goal is to create a safe place for deer to graze while offering a strategic place to hunt them. The TrophyTracks hunting app can help you keep track of all food plot related activities, and it helps you monitor the efficiency of your plots over time.
Why Food Plots for Deer Are Important
Hunters create summer food plots at the beginning of the year. These food plots for deer provide does and fawns fresh growth after winter when they need it most. Summer plots can also increase your deer herd with predictable movement into those food sources.
Deer feed 5 times per day, so it is also great to have plots planted for the fall to capitalize on this movement in and out of food plots. Fall food plots should peak during the hunting season, whereas everything else in the whitetail woods is in the fall transition and dying off.
There are a few different strategies for fall to consider:
Destination food plot
Kill plot
Or daylight staging food plot
These decisions depend on what your goals and how much land you have to work with.
How to Get Started with Food Plots for Deer
If you have not established an area for a food plot, spend some time thinking about how you want the parcel designed. How do you envision deer moving through your parcel during the hunting season? This is an important question when designing your set up. Perhaps you have some history at the location you would like to implement a new food plot program. Past observations can often lead to the best food plot locations.
There are many ways to get started. You can do a no-till food plot, you can till the plots and plant, or if you have a drill you can use that method too. This all depends on your land, what equipment you have available, and how you want to go about planting.
Spend some time drawing out or thinking about the size of your plots, and what you will plant. You'll need to find sources for your seed too. It is best to shop local for cereal grains since these are heavy and expensive to ship. Local farmers or feed stores are your best bet here to see what you can find. For brassica's this year, I wanted to use Whitetail Habitat Solutions Big Boost Brassica mix. I also did a few more food plots in Back Forty Food plot seeds sourced locally from Central Pennsylvania. For tillage radishes, I used Northwoods Whitetails for those seeds.
No-till Food Plot – An Example with TrophyTracks
I've been following Jeff Sturgis and Whitetail Habitat Solutions for a long time, and he has plenty of videos on YouTube and books that go over planting Fall Food plots and the timeline to do this. In this example, I'm following his Ultimate No-Till Planting strategy.
Step One – Site Preparation
In the early spring months, during good growth, spray glyphosate at 2 quarts per acre, and 1 pint of 2,4-D per acre to start killing leftover growth from the past fall and weeds in the spring. Wait a few more weeks until late May or early June, and spray one more time with 2 quarts per acre of glyphosate. This ensures a weed free bed.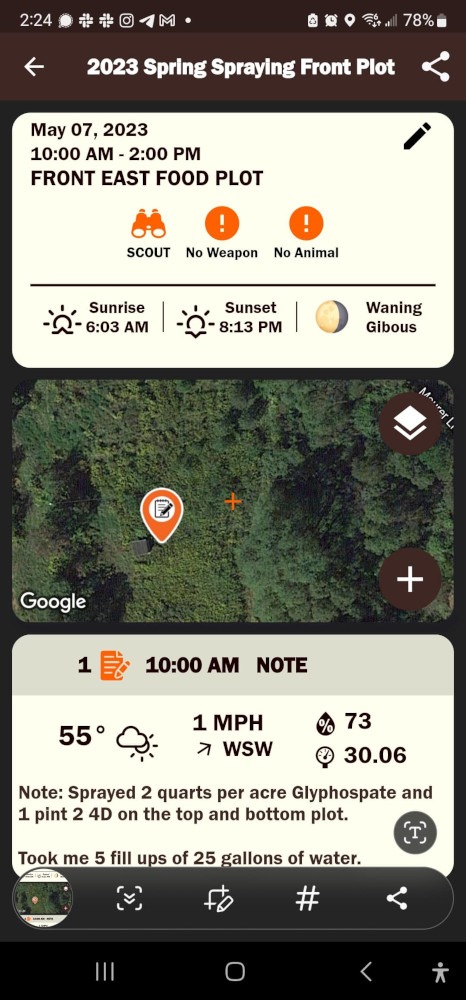 Step Two – Cover Crop and Summer Forage
Plant 40 lbs. of buckwheat per acre with a hand seeder. The goal of the buckwheat is to grow fast and shade out any weed competition. Buckwheat seeds in quickly and easily on top of bare soil. The buckwheat cover crop should last for 6-8 weeks depending on your area.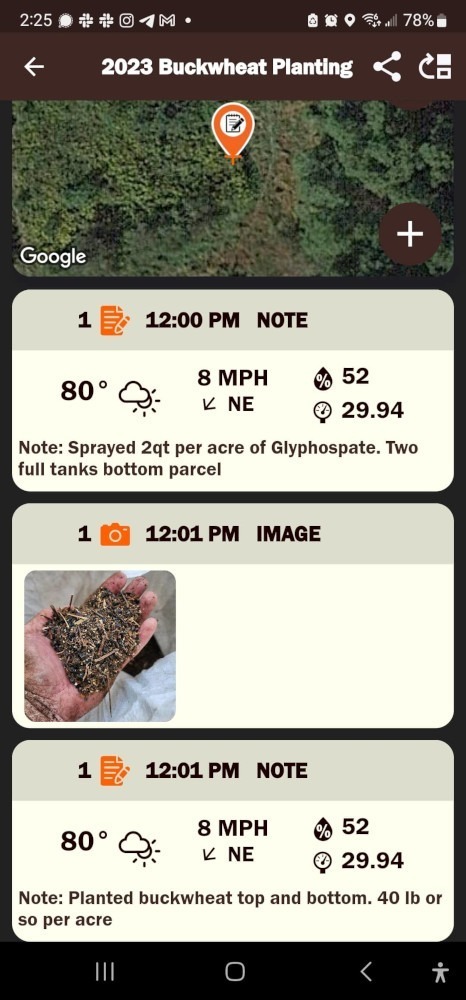 Step Three – Planting the Main Food Plot
Seed into the standing buckwheat. For example, I typically seed with an Earthway spreader. Everyone has a different methodology of what to plant, when to plant, and how to plant. However, we all have the same goal of getting good growth and attracting whitetail deer to your plots.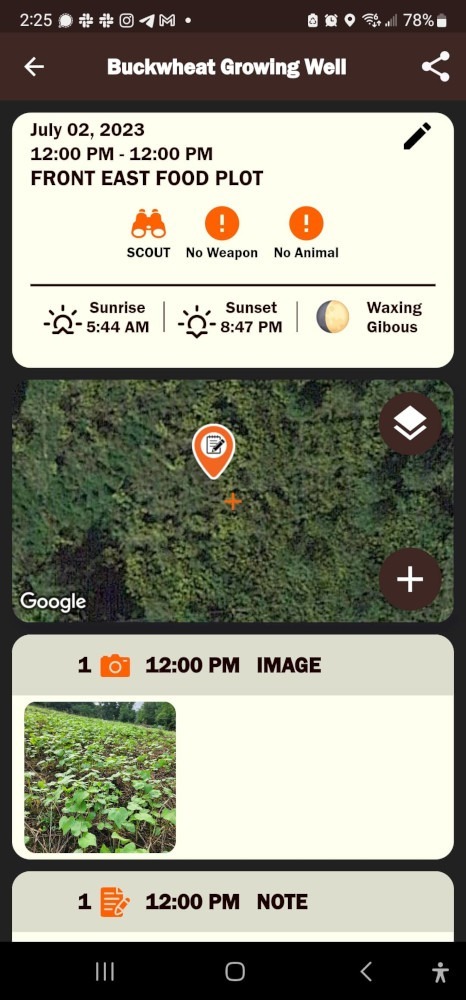 I use a brassica mix on one side of the plot, and cereal grains on the other side. This ensures the deer have an early season mix to hit first, and then after the first frost they will slide over to the brassica mix. I have had a lot of success with this mix because it drives deer activity and movement throughout the entire hunting season and even into the late season.
Once seeded, crush the buckwheat with a cultipacker like Packer Maxx. Then, spray the crushed buckwheat with 2 quarts per acre of glyphosate to kill it. The crushed buckwheat will be killed very quickly once the herbicide gets into the stalks of the plants.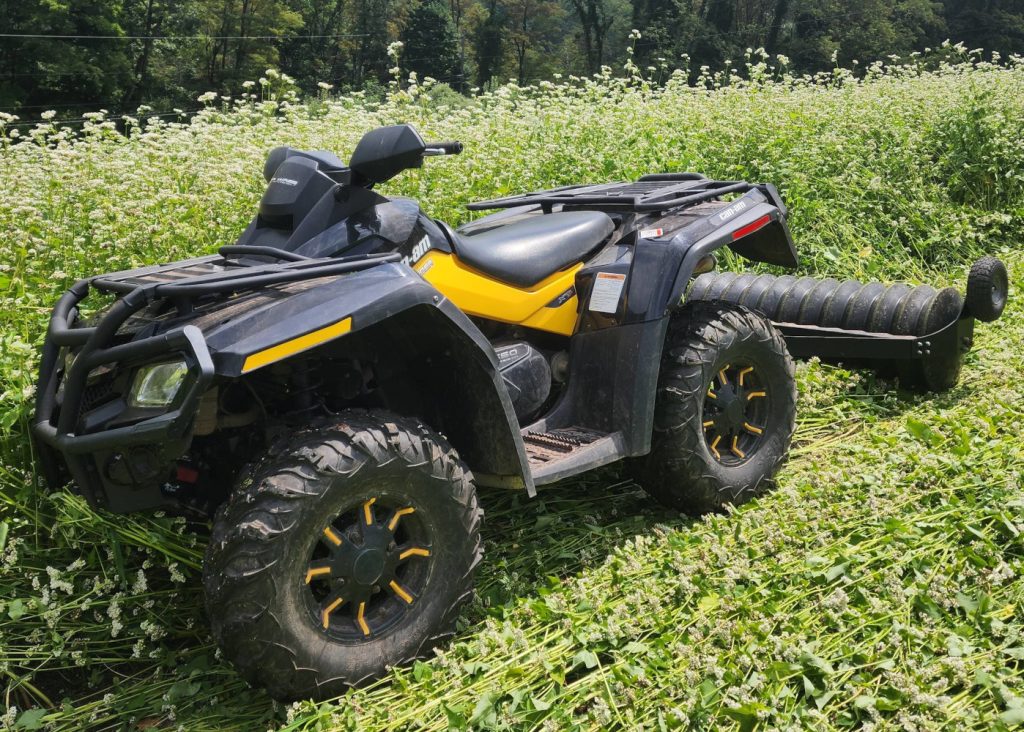 Step Four – Follow Up Seeding
After a few weeks of growth, you can add layers of cereal winter rye and/or oats to the food plot. This will ensure a lush food plot for deer that will last well into the hunting season. Layering your rye or oats can be beneficial if you have low spots or just need some additional growth
I've done this process for quite a few years now, with varying degrees of success. I have changed what I planted and when I planted slightly over time to experiment with what works best for my area and different food plot locations. The real key I've found is to be sure to plant your seeds prior to a heavy low pressure system. This ensures plenty of rain on your plots right after planting. Using the weather forecasts in TrophyTracks to manage food plots, it is easy to plant during the best days. Generally in the northern half of the country I am planting between August 1st and 15th.
The TrophyTracks Advantage
The advantage you have with using the TrophyTracks hunting app is you can keep a journal of everything you do at every food plot location. The first step is downloading the app, and pinning your deer food plot locations with a name. Then, as you begin taking action on your plots, start a new journal at those locations and add all your details.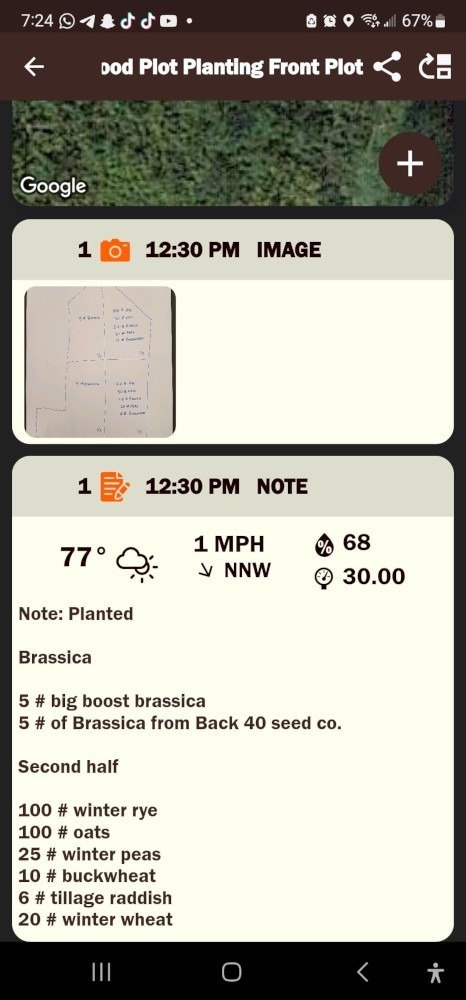 It helps to remember when and how much chemical you used (if any), what you planted, when you planted it, if there were any soil tests done and the results, used to monitor growth over time, add pictures to your journal, etc. at all your food plot locations. As you get closer to the seasons and times of year when you need to plan for your food plots, having the ability to look back at past logs proves to be extremely beneficial to know this kind of information.
---
Feature image courtesy of Jacob Belinda
Jacob is the creator/owner of The Void Hunt and The Void Media