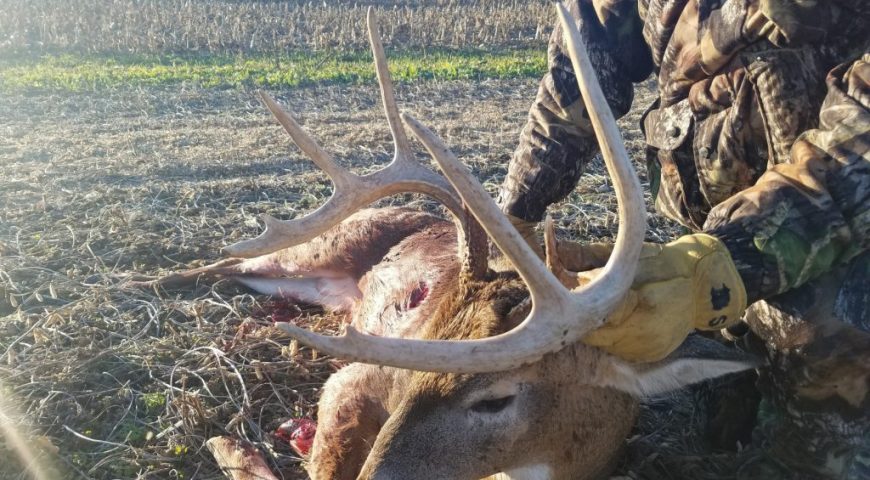 3 Ways a Hunting App Makes You Better on Opening Day
Utilizing Your Mobile Hunting App on the First Day of Deer Season
Early bow season, particularly the opening day, gets every hunter fired up. Months have gone by since the last day of deer hunting season and the itch is growing. In preparation, you are spending your days shooting your bow, preparing your hunting gear, and reviewing trail camera photos so you are ready for day one. One of the most important things hunters overlook, however, is the data available to them in their hunting app.
Technology is in every aspect of our lives. Hunting apps are growing in popularity and for good reason. There is no better way to prepare for deer season than to review last year's hunting logs. TrophyTracks is one of the best free hunting apps, which allows you to do just that. It allows every hunter, whether you are bow hunting for deer or small game hunting, to add hunt logs and track their year-long season hunting activity.
3 Ways to Utilize a Mobile App on the First Day of Deer Season
What if you didn't have a hunting app like TrophyTracks last deer hunting season? How can it help you this deer season? Here are three ways you can utilize a mobile hunting app successfully on the opening day of bow hunting season.
Important Mobile Hunting App Features
Precise Weather Data

– A mobile hunting app can give you precise weather data for your exact location. Several key pieces of information are wind speed, wind direction, temperature, and future weather forecasts. You can use this information to plan your first-morning hunt or keep track of changing weather patterns throughout the day.

Hunt Logs Today for a Better Tomorrow

– here is no better time than the first day of deer season to start tracking your hunting activity. Notes and observations taken on day one will eventually help you with your future hunts. Patterns will being to emerge from your activity and observations that you can capitalize on later in bow hunting season.

E-scouting is Important

– Hunting pressured deer adds an additional challenge to the season. Public land bucks become extremely "gun" shy with more and more human activity in the woods. E-scouting is scouting from a distance. A hunting app will allow you to scan aerial images and add pins to spots that look promising. Combine that with weather information and checking out access and you can quickly sort out which areas are promising and require additional investigation.
The Number One Mobile Hunting App Tip
The biggest mistake and most important tip we can give hunters this season is to use your mobile hunting app. The different ways it can help you as outlined above as well as being your reference for future hunting seasons is invaluable. But, you have to use it each and every time you hunt in order to take full advantage. Once you do, a mobile hunting app like TrophyTracks will quickly be one of your most important pieces of hunting gear.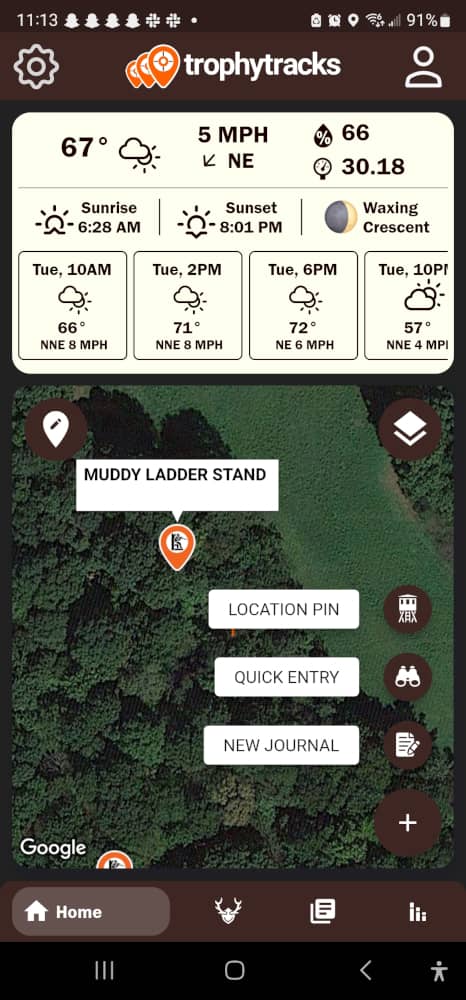 To conclude, a hunting app in your hand on day one this bow hunting season will make you a better hunter. The ability to track precise weather, keep hunting logs, and e-scout during deer hunting season goes hand in hand with your best hunting gear. Grab one of the best hunting apps and start using it on the opening day of deer season this year.