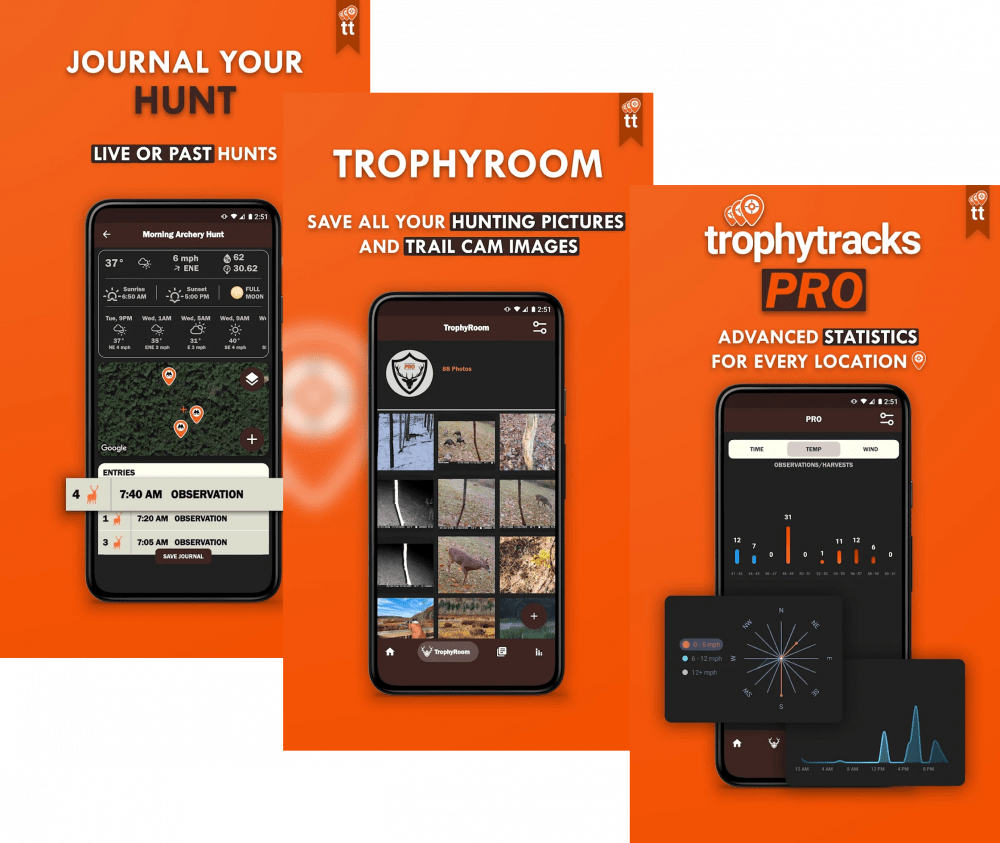 TrophyTracks Hunting App Update Unlocks New Features
TrophyRoom, Powerful PRO stats, improved hunting journal, and much more!
If you are new to hunting or a life-long outdoorsman, you know how valuable field notes, data, and photos can be for success. Information is powerful and that information real-time in your hands is like gold. How do you track everything from the woods and have it available instantly? The latest TrophyTracks hunting app update goes beyond being a mobile hunting journal and sets sights on being one of the best hunting apps on the market.
The newest features in the latest TrophyTracks update maintains one of the app's key goals of keeping things simple but useful. The intuitive platform for journaling your hunts, logging observations, and capturing harvests has even more features in our latest update. These top enhancements include:
Added map toggle to display satellite and topographic maps
Dedicated app section for viewing and uploading all your hunt or trail camera images
Simplified design for adding new journal entries
Ability to review and edit past observations, harvests, pictures or notes to saved journals
Updated PRO interface with redesigned graphs for observation and harvest information by time, temperature, and wind direction
Redesigned settings screen
To see the full release notes, visit the Google Play Store or Apple store
TrophyRoom Keeps All Your Hunting Images
The new TrophyRoom feature in our hunting journal is a dedicated app section where you can upload a image, view images, and see all images you have added to journals or quick entities. The TrophyRoom was added so hunters can save and organize all their trail cam images and other relevant hunting images. Hunters can easily find and retrieve their best trail camera images and any other pictures or harvest records directly in the hunting app.
It's the one place where you can store and see all your hunting images. It eliminates having to scroll through all your other images on your phone to show off your harvests. Its is also ideal for for trail camera monitoring and linking images to entries. All app users get 25 images in the TrophyRoom. PRO users are allowed unlimited images!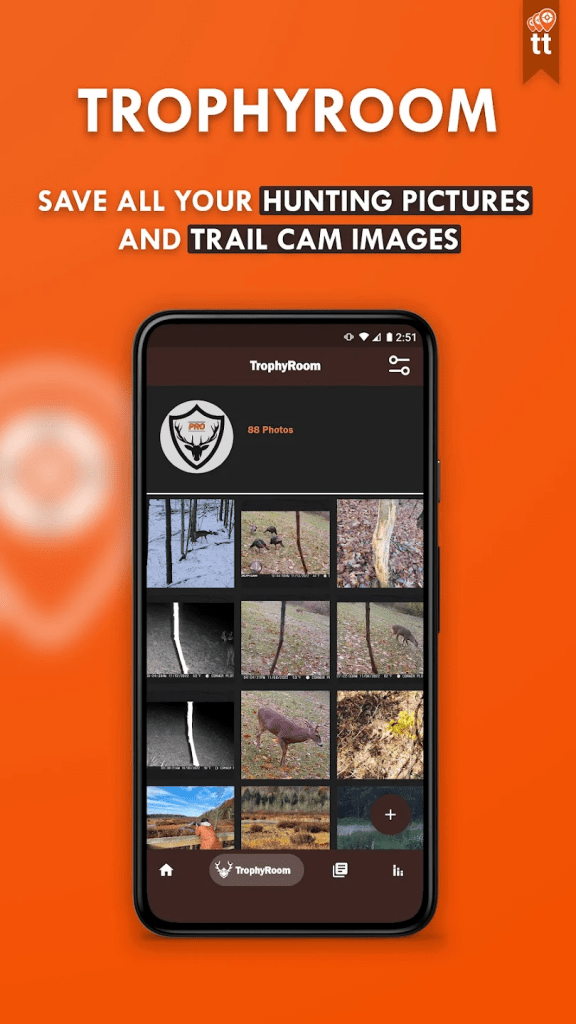 Better Hunting Journals with More Features
The hunting journal has been simplified for adding new entries. Its easier than ever before to start a hunting journal, log observations, and add images. In addition, a new feature is the ability to edit past journals including observations, images, harvests, and notes. Finally, many helpful user interface features were added such as edit buttons, swipe gestures, and large info cards with better contrast to easily reference your entries. Along with everything new, including the map feature to toggle between satellite and topo, all the same features like real-time and historical weather data, sun and moon phase, and a trusted interface to document your hunting adventures are still there.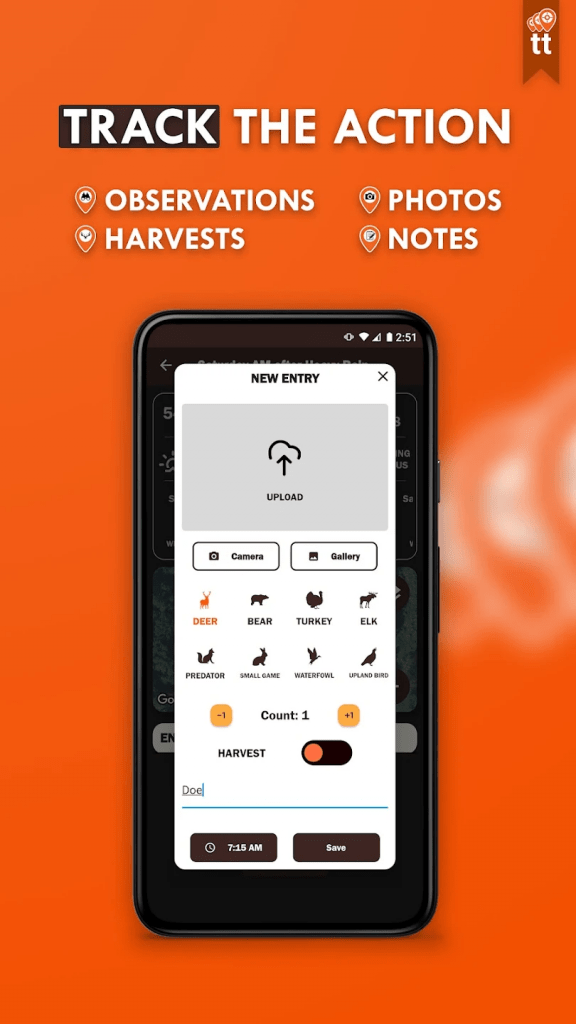 PRO Hunting App Version Goes Next Level
New features of the TrophyTracks PRO version gives you even more reasons to upgrade. The paid version of the hunting app not only unlocks unlimited image storage in the TrophyRoom, but it has completely redesigned graphs for showing observation and harvest information by time, temperature, and wind direction. You can now unlock your own data and see exactly the best times to be hunting.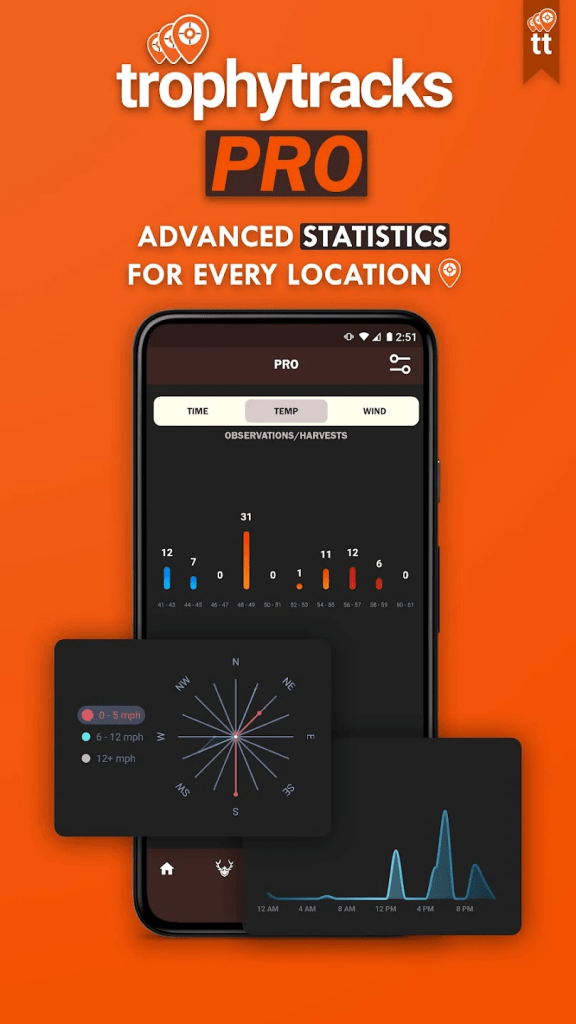 Getting Started with the New Version
If you already have TrophyTracks, visit your app store and update to the new version. You may have to uninstall your current app and reinstall the updated version. Don't worry, your data is all saved and even if you have to uninstall, your data will be available in the new version. Next step – start creating journals, add images, and documenting everything your do in the woods!