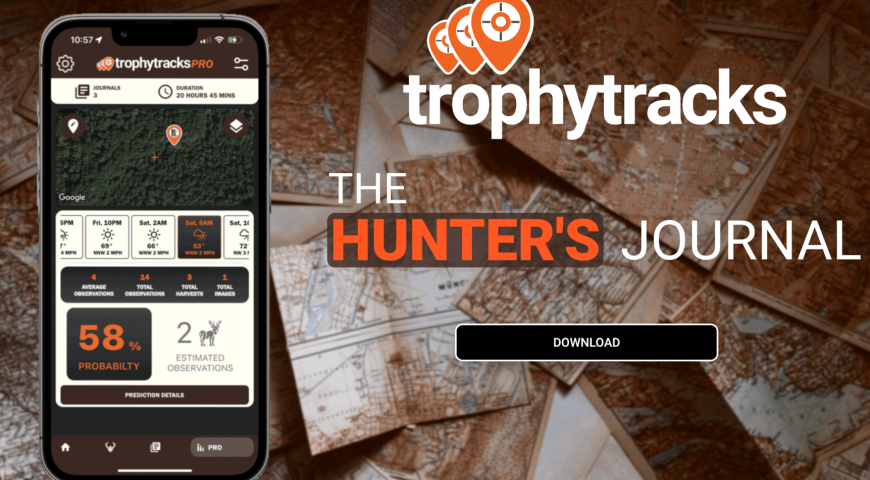 One of the Best Free Hunting Apps Gets Better
Free Hunting Apps | TrophyTracks Fall 2023 Update
TrophyTracks is one of the best free hunting apps available. The app allows users to journal hunts and keep track of observations, field notes, and harvests. This personal hunting journal can be used all year to log hunt information for any game in any season, monitor trail cameras, and add scouting trips.
TrophyTracks is a free hunting app that can be used to track locations, observations, harvests, field notes, and pictures while hunting, scouting, or checking trail cameras. Hunters can also add past hunts, observations, or harvests to complete your hunting journal.
What Hunting Apps Do You Use?
First, if you are not using hunting apps you are behind the game, literally. There are several free hunting apps on the market. TrophyTracks sets itself apart, however, by enabling hunters to journal their hunts.
It also provides real-time location, sunrise, sunset, weather attributes, and moon phases while also saving the temperature, wind speed, wind direction, pressure, humidity, and location for each entry you log. Over time, by logging hunting journals, a hunter can better understand how game moves depending on the time of the year and weather conditions. Hunters can use past journals and locations to understand where the most observations and harvests happened, unlocking the power of TrophyTracks to put you in the right spot, at the right time.
Free Hunting Apps and Features They Dont Have
Many deer hunting apps provide you with basic functionality that includes mapping, notes, and general weather. These three features are nowhere near enough to improve your hunting success. TrophyTracks, one of the best hunting apps, goes beyond the basics with features like these below.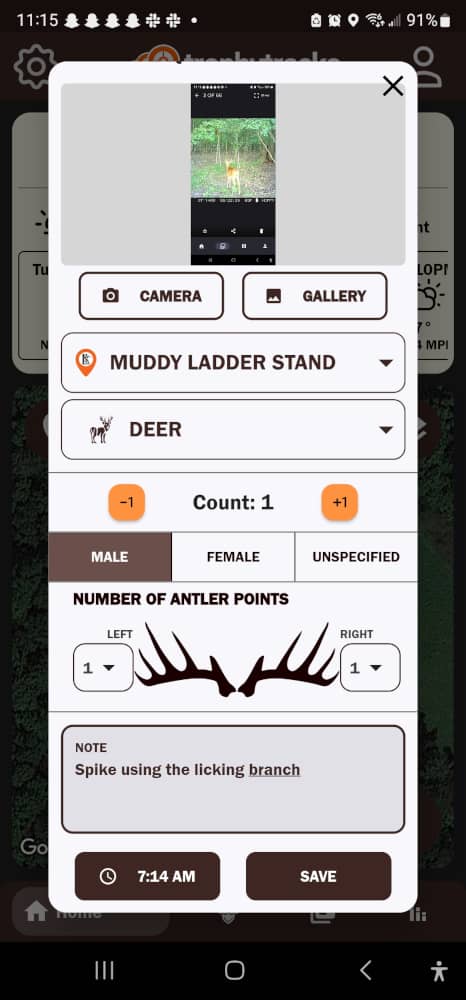 Trail Camera Management
All within the same hunting app, you can use TrophyTracks to manage your trail cameras. Keep track of trail camera locations and add your best trail camera photos. Adding photos to TrophyTracks automatically tags the weather information and saves it to your journal. The trail camera feature will allow you to better understand when and where game are moving and how those movements relate to weather patterns.
TrophyRoom Photo Management
TrophyRoom gives hunters a place to save and organize all their hunting-related images. Keep important trail camera photos, harvest pictures, and any other outdoor images in one place, all organized and separate from all your other photos. Find and retrieve your best trail camera and harvest records directly in the hunting app.
Journal Hunts All Day
Our free hunting journal app allows you to create journal entries for each location you hunt or scout and view basic statistics for those locations. Hunters can also look back at past entries to understand how the weather and wind affected their observations while also being able to edit those same past entries.
Advanced Predictive Capability
For advanced statistics and to get a complete understanding of game movement and predictions, the TrophyTracks PRO version provides hunters with the ability to see the observations made by time of day, temperature, and wind direction. Hunters can look at current conditions and forecasted weather data. Align perfect conditions to hunt your best locations with the new 7-day Hunt Outlook prediction value.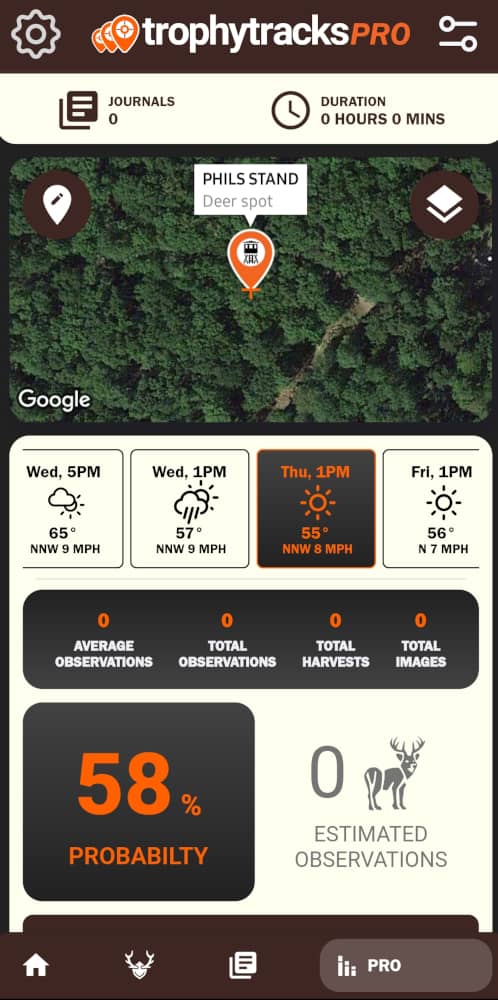 Easily Share Photos and Journals
Whether you are looking for free hunting apps for Android or free hunting apps for iPhone, TrophyTracks is the one app that lets you share socially with friends and family. You choose what you want to share such as TrophyRoom harvests or hunt journals via social channels or SMS. This lets you and your hunting partners learn from each other and even show off how hunting apps are helping you be more successful in the woods.
Best Hunting App Getting Better | Fall 2023 Update
The fall 2023 update for TrophyTracks update lands just in time for hunting season. The update leverages new technology, an improved user experience, and a year's worth of work on predictive modeling. We worked with users to understand what was needed and what needed improvement. The result is the best version of TrophyTracks yet. Below are key updates you will get with the new version.
NEW Predictive 7-day weather forecast with probability of game movement and observations
Hunt Outlook based on weather forecast probabilities
Journal Value based on user-entered journals
Share journals via social media, email, SMS
Specify game sex and antler points
A total reimagining of all icons
Filter redesigned for a better user experience
Expanded search capabilities
Includes a direct link for user feedback
In addition, we provide a 30-day full-featured PRO user experience. This shows you the value of upgrading to one of the most powerful hunting apps available.
How Do I Upgrade TrophyTracks?
The latest version of TrophyTracks is available for both Android and iPhone with the below links. However, if you already have the hunting app installed on your device, it should update automatically if you have updates enabled on your phone. Alternatively, uninstall the current app version and use the links below to download the newest app update. The installation takes a minute and your account information will be saved, including all your data, images, journals, etc. when you log back in using your existing account.
For the most part, this is our biggest and best upgrade to date. Free hunting apps are out there but nothing that matches TrophyTracks. Hunting apps are a critical tool for every hunter. TrophyTracks is the only one that gives you all the features you need to be at the right spot and right time.